A Comparison of Top Excavator Models
Built for the largest jobsites on the planet, excavators are one of the most common pieces of earth moving equipment. Combining ergonomic comfort with joystick maneuverability, modern excavators are designed to operate effectively in a host of extreme environments, from mining and forestry to demolition and landscaping. These working conditions often present a variety of challenges, including harsh terrain and climate as well as tight, restrictive spaces. For this reason, there are three types of excavators that tend to stand out from the rest.
In this article, we'll compare earth moving equipment manufactured by top brands including Hitachi, Komatsu, Caterpillar and JCB, focusing on the following types:
Metrics to consider
Excavators are bigger than most other earth moving equipment. This can present a number of concerns depending on the operating environment. Whether comparing excavator rental options or models intended for purchase, pay close attention to the following metrics when incorporating an excavator into your fleet.
Digging depth. Dig depth is often one of the primary capplication. Smaller models are capable of dig depths of only six feet while the largest excavators can dig a trench up to 42 feet from a stationary surface position. Mid-range models typically offer a dig depth of 18 to 19 feet.
Operating weight. Take note of your estimated max load when evaluating operating weight. This represents the total amount of weight the rig can safely support at the end of the boom (fully-extended) when balancing against the counterweight.
Emission rating. All non-road diesel engines must comply with the Environmental Protection Agency's Tier 4 hydrocarbon (HC) restrictions for models manufactured from 2015 on. Earlier models are subject to the guides established in Tier 1 through Tier 3 depending on date of manufacture.
Engine type. Excavators operate on a diesel engine. Newer machines will have clean diesel technology built into the engine. Greatly reducing the excavator's carbon footprint, this advancement uses clean diesel, a fuel that contains 97% less sulfur than traditional diesel fuel.
Pricing. Excavator prices start between $100,000 and $200,000 and can go as high as $1,000,000 or more. A good used excavator is typically 2 to 3 years old, has less than 1,000 hours of use and is often 25% less than its new counterpart. With the quick advancement in technology, just make sure you're getting all the features you need. It's worth noting that leases and excavator rentals are extremely popular within this category, providing the latest advancements without the high cost of purchase.
Model comparisons
When comparing excavators, you'll find a variety of types including compact excavators and crawler excavators. But among construction and industrial applications, excavators tend toward specialized functionalities. This is particularly true when it comes to the maneuverability they provide and their approach to materials handling.
Long Reach Excavators
Another method of reaching into a construction area from the stability of solid ground, long reach excavators are equipped with an extendable arm that reaches in from 40 to 100 feet. Also known as "long reach fronts" and "super long fronts," a low center of gravity and heavy counterweight enables them to span fragile terrain, rivers and similar waterways, as well as reach into the depths of a foundation.
Dragline Excavators
The largest piece of earthmoving equipment available, dragline excavators are frequently called upon for tasks in surface mining, quarries, road building, and large civil engineering projects. As the name implies, this type of excavator doesn't use power in the arm to dig but rather suspends the bucket from the end of a long crane, drops it above the material intended for pickup, and drags it back to the machine for removal.
This type of excavator is ideal for deep trenches, underwater excavating, and reaching into areas that are inaccessible to standard earth moving equipment.

Suction Excavators
One of the more innovative machines available, suction excavators are essentially large vacuums mounted onto a truck weighing up to 32 tons. Also known as "vacuum excavators" and "hydro excavators" (when incorporating water), they make excavation highly controllable in space-restricted environments such as residential neighborhoods, stadiums, and business campuses. Crews simply swing the pipe on a boom over the work area and suck up dirt, rock, and all other debris.
Read more on excavator attachments and types.
Choosing a brand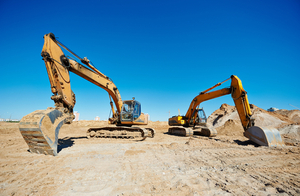 As you narrow down your list of excavators, another dependable method of choosing the best one is by comparing dealers. Known for incorporating proprietary technology and features into the equipment as well as offering a host of post-sale support plans, excavator manufacturers are often the key component to a solid ROI.
Reviews. While this shouldn't be the sole basis of your decision, what other buyers are saying about a brand can tell you a lot about how they do business. Watch out for red flags related to service and warranty replacement. Most manufacturers are great where this is concerned, but individual dealers may vary.
Awards and recognition. Many of the awards in this category are often given out for the incorporation of new technologies. In particular, look for developments related to improved controls, lower emissions, and hydraulic system efficiency.
Help and support centers. Look for phrases like "solid partnership" and "advisor." These often indicate the dealer is focused on your long-term growth, not just an immediate sale. Quality dealers will offer an extensive range of support services from dedicated service reps to streamlined parts replacement and warranty claims.
Training and maintenance agreements. While maintenance agreements keep the internals operating reliably, heavy equipment operators are ones who can have a real impact on the lasting efficiency of the machine. With training, operators learn health and safety standards, proper operational procedures, and even preventative maintenance. Most major brands offer some form of operator training and certification, often provided at a local dealership or manufacturing facility. And they tend to book up, so reserve your space early.